Workshop
20th February - NATIONAL CONFERENCE ON EXCELLENCE IN EDUCATION
As a part of Centenary celebrations of KLE Society, KLE SCHOOLS organised a National Conference On Excellence in Education on 20-21 February, 2015 at KLE ENGLISH MEDIUM SCHOOL Solapur, Maharashtra. With the theme Leveraging Learning Beyond the School Curriculum for a responsible citizenry.
Wide spectrum of Speakers included
Mrs. Manjula Pooja Shroff-Chairperson Calorx Foundation- Ahmedabad
Mr. Shreedhar Rajgopalan- Director Educational Initiatives- Ahmedabad
Dr. Rina Niyogi- Mumbai
Dr. Senthil Kumaran, CII-IQ- Bangalore
Mr. Niranjan Aradhya- NLSIU- Bangalore
Mr. Bal Govinda Das- ISKCON- Pune
Swami Shrikantanand – President Ramkrishanmath- Pune
Our Principal accompanied by 3 teachers along with other schools of Haveri like Geleyara Blaga School, J P Rotary School, Karnataka Public School and Lions English Medium School and OM Public School, Ranebennur, attended the conference successfully. The conference provided an opportunity to share concepts, approaches and best practices that can be harmonized by educational institutions.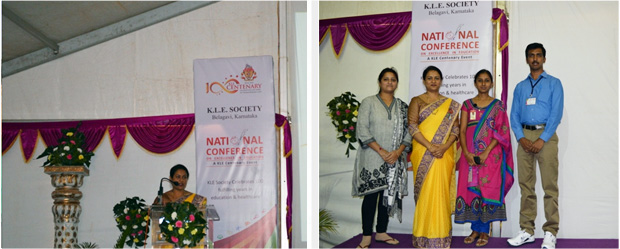 7th and 8th Nov – 4th Level Abacus Training
The 4th level Abacus Training was held for two days on 7th and 8th November at M R Sakhare School, Hubli. Trainer Mrs. Kaantimati addressed the trainees. Our school teachers Mr. P F Mathad, Mrs. Rajashree Hatti and Miss. Vidya B were part of the training.


I.C.T Training Edurite Training Progamme
I C T (Information communication Technology) held a training session on 28th May. Resource person Mr. Prashant S from Pearson Education Services Pvt.Ltd (Edurite) addressed the trainees regarding new implementation in digi classes. Version for training was DigitAlly 3.6.0.3.