Events
Independence Day Celebration
Investiture Ceremony
Republic Day Celebration
Shirasangi Lingaraj Jayanti
KLE Founders Day
105th KLE foundation day is celebrated in KLE school Haveri
Mrs. Sapna Lobo madam, the principal of KLE School spoke on the occasion.
Mr.Sharanappa and Mr.Anand teachers have given speech, Mrs: Neelamma has anchored and
Mrs: Soumya said vote of thanks.
Fit India Program
Independence Day Celebration
Teacher's day
05/09/2019:- To Commemorate the Birth Anniversary of Dr.Radhakrishnan, Teachers Day was celebrated in the school, Various competitions were conducted for teachers. The function and the competition were organized by the senior students of the school.
swachhata Hi Seva Day
On account of Cleanliness Drive for Swachh Bharat-Swachhata Pakhwada Swachhata Hi Seva day was observed by cleaning a public garden near by the school by all the students and the teacher.
Shapath
On account of Cleanliness Drive for Swachh Bharat-Swachhata Pakhwada ,Swachhata Shapath was taken by all the students and accordingly determined to keep the surroundings neat and clean and make India Swachh Bharat .
Karnatak Rajyostav
Karnataka Rajyotsava: 01-11-2019 "Wish You Happay Rajyotsava day with a smile" Rajyotsava day is celebrated with great joy and vigour in our school. The entire school wears a festive look on this day as the red and yellow.kannada anthem "Jaya Bharatha Jananiya tanujate" is chanted. Chief Guest Shri. Kenchaveerappa Sir Rtd G H College Professor in Kannada ,addressed the gathering about how to respect our mother tongue,and how to protect it.Blue house is incharge of this national function.The evergreen song "Hachchevu Kannadada Deepa" dance performed in the folk style. ourPrincipal Mrs Sapna R Lobo Madam has given the speech in kannada for the first time. Everybody excited her speech. Our School students performed the dance in municipal ground about kannada Rajyotsava and won the first prize.
Kargil Vijay Divas
Kargil Vijay Diwas celebrated in our school. That is on 26th July 2019, to respect and to show gratitude to the brave Indian Soldiers, who sacrificed their lives to keep India safe and secure. Two x soldiers of our country were the chief guest for grace this function. They have shared their experience. This year is 20th Anniversary of Kargil Vijay Diwas. The day is celebrated against the victory of Pakistani troopy had Mrs.Sapna Lobo presided over the function
K.L.E.Founders Day
Founders Day Celebration 13-11-2019 "Founders aspire to create meaningful, Strategic Solutions that will make some corner of the world, no matter how small, a better place" KLE's 104th Founders Day celebrated on 13th November2019,in our school,with all the other KLE, Institutions in Haveri. Chief Guest Dr. V.V. Hebballi Rtd. Principal, KLE'S Nijalingappa College, Banglore and Honorable Guest Shri. P.D. Shirur, Our Principal Mrs. Sapna R. Lobo Madam, President of this function Shri M . C. Kolli were are grace this function. They paid rich tributes to the founding fathers of KLE, Society, the "Saptarishis" who established the organization.
International Yoga day Celebration
21/06/2019:- International Yoga Day was celebrated in the school. Principal Mrs,Sapna Lobo, all teachers and students performed Aasanas
Events 2019-2020
School Election
Investiture Cermony
Teacher's day Celebration
Independence day
International Yoga day Celebration
Symphony
Ambedkar Jayanti
Independence Day

International Yoga Day

World Environmental Day

Christmas Celebration

School Reopening Day
Pen Distribution for the Students
World Environment Day
Red Day
Fruits Day
Demonstration of MOM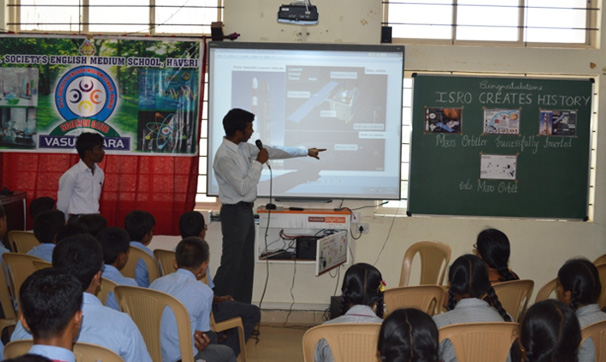 Video clippings of MOM and working system of Rocket, when how and where MOM started was demonstrated for all the students of our school in the presence of our Principal. The session ignited the students' mind to opt the field of Science and Research.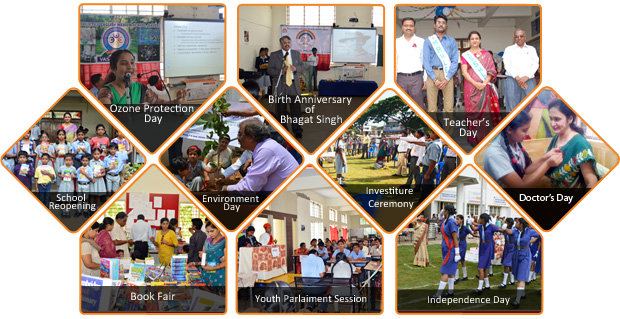 27th September- Birth Anniversary of Bhagat Singh
Birth Anniversary of Bhagat Singh was celebrated on Saturday the 27th September 2014. District Judge Shri. Shreeshanand, the chief guest of the function addressed the students and spoke about the disciplined life of Bhagat Singh. He also connected his talk to the present generation students, their life and lifestyle. He advised the students to use technology judiciously and make their life.
16th September- International Ozone Protection Day
Karnataka State Pollution Control Board and KLES School, Haveri jointly organized a programme on 16th September on "INTERNATIONAL OZONE LAYER PROTECTION DAY" for the students of 9 and 10. Chief Guest was Mr. E. Prakash Environmental Officer, KSPCB, Guests Of Honour were Prof. Shabana Banu, Chem. Dept. Engg. College, Devgiri.and Mr. Rajesh Asst. Environmental Officer KSPCB. Prof. Shabana Banu addressed the students regarding the importance of the Ozone Layer and role of students in protecting it.
22nd STUDENTS ACADEMIC EXCHANGE PROGRAMME
In order to exchange the academic methods and thoughts among the students of KLE Schools there was an Academic Exchange Programme arranged by our KLE School, Haveri. KLE School Gadag, Dharwad and RPS Jamklhandi were invited for the programme. The programme was hosted by our school and the chief guests were the principals of the invitee schools Mr. Basavaraj Nyamagowda, member Board of Management Royal Palace School, Jamkhandi, Mrs Rita Jainer, Principal, Royal Palace School, Miss. Kavita Kulkarni, Principal, KLE School, Gadag and Mrs. Shubhangi More, Principal, KLE School Dharwad.
Events like Group Discussion on Social studies, PowerPoint Presentation on Biology and Dramatization of the Novel "The Story of My Life"- Hellen Killer were conducted in the morning session. Quiz competition and Seminars on the trigonometry topic were conducted during post lunch session.
125 students participated in the programme.
9th September- Personality Development Programme
A programme on personality development was hosted by the RamKrishna Ashram, Ranebennur and RamKrishna Ashram, Kolkata. Ambikanandji Maharaj from Kolkata and Prakashanandji Maharaj from Ranebennur addressed the students of grade 8,9 and 10. The session was focused on how to concentrate , meditate and build our personality. A demo on Purifying our Soul was demonstrated. The theme of the programme was based on –"Each Soul Is Potentially Divine"
SEPTEMBER 5TH- TEACHERS DAY
Teachers Day was celebrated with great enthusiasm. To mark the importance of this day –"Gurukuladalli Shankaracharyara Nudigalu" and also the 34 stanzas from "Bhajagovindam" was sung by few students from UKG to grade 4 and they disguised themselves as Shankaracharya, Shakuntala and many more and performed in the programme. The programme was directed by Mrs. Rekha V Shirur, Assistant Teacher. The students of Grade 10 hosted the "Teacher's Day Celebration". On this day teachers conducted the assembly like students did.
Students organized various competitions for the teachers like 45 second game (eating buns), fish pond and fashion show.
On the same day there was Speech by Our Beloved Prime Minister Narendra Modi addressing the students of north Indian States. Live telecast of the same was watched by students of grade 8,9 and 10 along with all the school teachers.
"HAPPY TEACHERS DAY"
KLE Society's English Medium School through under the able guidance of Mrs. Saroja B Shillin has awakened the citizens of Haveri to give good education to their children. This has become possible because she is a perfect teacher.
She is guided by our beloved schools Coordinator Dr. Mrs. Preethi Dodwad. Both are acting like teachers to guide us and impart good education to Haveri children.
In view of this on this auspicious occasion of teacher's day, we the staff of KLE and citizens of Haveri wish to convey our Heartfelt Teachers Day.
"GURUDEVOBHAVA"
Celebration of Shri Krishna Janmashtami
Our school celebrated Shri Krishna Janmashtami on Saturday the 16th August. The celebration started traditionally by performing Pooja to the Photo of Lord Shri Krishna. On the occasion kindergarten students were dressed as Radha and Krishna.
Celebration of "INDEPENDENCE DAY"
68th Independence Day was celebrated with great fervor. Our beloved Principal Mrs. S B Shillin hoisted the National Flag and addressed the students about the importance of the day and their responsibilities towards the progress of the nation.
On the same day at district Muncipal Ground 180 students of grade 7, 8, 9 and 10 of our school enacted the entire Freedom Struggle from 1857 to 1947 AD with great Patriotism and enthusiasm. The act was appreciated by the D C and Public of Haveri. The mesmerizing act left the crowd spellbound.
Our school guide students bagged the 1st prize in the March Past.
21st JULY – Youth Parliament Session
On 21st july 2014 School Parliament Monsoon session was held. All the committee heads along with their members were present. Principal Mrs. S B Shillin was present. Miss. Deepika S Naik was the Speaker. The session was guided by Master Prajwal A C and Master Anand M M presentees of CBSE International Life Skill Summit.
Parent Engagement Programmes :
1. 5th June – Vanamahotsava
KLE School, Haveri and District bar association; Haveri jointly celebrated Vanamahotsava and planted about 50 saplings in the school campus. Principal Mrts. S B Shillin , Mr. N S Patil, parent President of District Bar Association, Mr. S Makare, parent advocate, Mr. Ashok, RFO and other team members and students of our school were present.
Karnataka State Pollution Control Board organized various competitions on account of World Environment Day and our school students bagged prizes in Drawing and essay writing.
2. 16th July Guest Lecture
Guest lecture was organized for grade 4 0n July 16 on the topic "TEETH and MICROBES". Guest lecturer Dr. Kalpana M S, parent, Government Dental Surgeon, gave the presentation on the topic. 104 students attended the same. Mrs. Nagveni J R, science teacher of grade 4 organised the programme.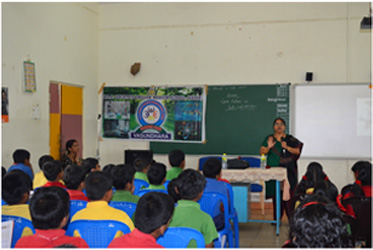 DOCTOR'S DAY July-1
July 1st is celebrated as Doctor's day. Our school students of grade 8, 9 and 10 along with one teacher visited many government and private hospitals and greeted the Doctors with roses and red ribbon which marked rthe importance of the day. Doctors were overwhelmed.
27 & 28 JUNE- BOOK FAIR
The school arranged book fair in coordination with the Share Win International, Kolhapur. Our Principal inaugurated the "BOOK FAIR". It was held for two days. Parents and children visited the "BOOK FAIR" in large number and purchased the books and materials of their interest. The school received books of worth rupees 11000 from share-win international.
June 5 - Celebration of WORLD ENVIRONMENT DAY
On 5TH JUNE 2014 Niasarga. The Eco Club, celebrated the "World Environment Day". Chief guest was Shri S B Nadagouda who motivated and encouraged the children to save, protect and conserve the natural resources. On the eve Eco Club planted 50 saplings around the school campus.
29th May - The School Reopening
The school was set ready to welcome the students. Newly appointed teachers and newly admitted children were welcomed with flowers and books respectively. The assembly was held by 9 standard students. Prayer started with basaveshwara vachana. Birthday wishes were also sung.
15th Annual Day Celebration was on Saturday the 28th December 2013
Annual Day celebration was held on 28th December 2013. For KG to Grade IV the Chief Guest was Dr. Basavaraj. S. Anami ( Principal K.L.E Institute of Technology, Gokul, Hubli ) and for V to Grade X the Chief Guest was Shri.N.Shashikumar ( Superintendent of Police, Haveri ).
5th September Teacher's Day
Teacher's day celebration was held on 5th September. Programme began with Pooja to the portrait of Dr. S. Radhakrishna by the Principal. The gathering was addressed by inspiring the teachers to be the role models.
28th August Shri Krishna Janmashtami
Shir Krishna Janmashtami was celebrated by reciting 'Geetopadesha' by students of KG to VII, which was followed by a beautiful dance and breaking of Dhai Handi. Dr.B.C.Bannur, Principal, G. H. College Haveri, Director Board of Management K.L.E Society, Belgaum was there to witness the whole show put up with Grand Chariot where participants recited shlokas form Bhagavat Geeta. The credit of Geetopadesh goes to Mrs. Rekha Shirur Assistant Teacher of the school.
22nd August to 24th August 2013 CBSE Science Exhibition, Bangalore
CBSE Science Exhibition was held in JSS Public School, Bangalore from 22nd August 2013 to 24th August 2014. Four students of our school participated in the exhibition. "Bad Effects of Smoking and Lung Cancer" was exhibited by Miss. Ranjita. S. S and Bhavana. B. S of Grade IX. Conservation of soil, water and energy was exhibited by Prabhudev. K. P and Rahul. M. A of Grade X.
15th August Independence Day Celebration
"Mera Bharat Mahan" Slogan echoed in the school campus as students, teachers and parents gathered for the independence day celebration on 15th August. Principal hoisted our National flag and addressed about the Freedom, Responsibilities of the students towards the nation. District level Cultural Activity was held on the same day on the Muncipal ground and our students bagged 1st place in cultural event and second place for guides march past.
15th July Inauguration of Integrity Club
Inauguration of integrity club programme began with prayer song followed by lighting the lamp by the Chief Guest Mrs.Geetika Kharola Principal, K.L.E School Bangalore and President Mrs. Saroja B. Shillin, inspired the students with interaction about integrity club.
10th July Red Colors Day
Inauguration of Colors Day was held on 10th July 2013 for Nursery students. In our school nursery kids were shining in Red Color. Main aim of this activity was to give the knowledge of colors and fruits. It was a beautiful red color day with lot of hope for a bright future to our nursery students.
6th June Investiture Ceremony
Investiture Ceremony was organized on 6th June in our school. Newly elected students were excited on this beautiful morning. School Head Boy Master Anand M. M and School Head Girl Ms.Pooja M. V, Vice Head Boy Master Manjunath M. S, Vice Head Girl Ms. Rajani Solemnly affirmed on the oath that they will respect the ideas and Principles of the School's sovereignty, unity and integrity.
Word Environment Day 5th June
The 2013 theme for World Environment Day is Think, Eat, Save. This year the country hoisted in Manglia, on 5th June 2013, World Environment Day, Nisarga, Eco-Club started the vermiculture, which is a very good idea to make the K.L.E CBSE School, a Eco-Friendly School. The Vermicelli pit was inaugurated by leaving earthworms into the pit on this day by Chief Guest Mr. and Mrs Hiregowdar accompanied by our Principal Mrs. S. B. Shillin all enthusiastic Eco-Club members and In Charge teachers.
23rd to 27th May 2013 Orientation Programme at K.L.E School Haveri
Orientation Programme was organized for teachers in our school. KG Section Training on Phonetics. Orientation Programme was carried on by the Principal Mrs. S. B. Shillin on "Vision & Mission". "How to create school center of excellence". Analysis of CBSE importance circulars on FA's & SA's, Project work, CBSE Manual & new implementations.